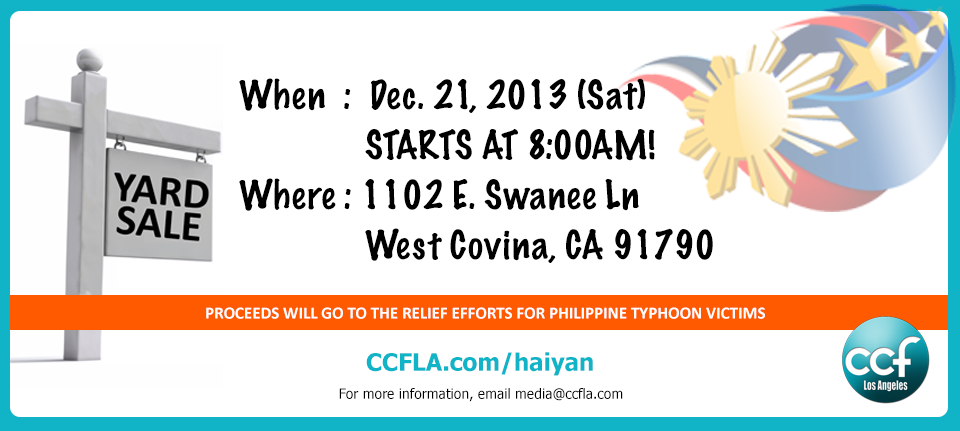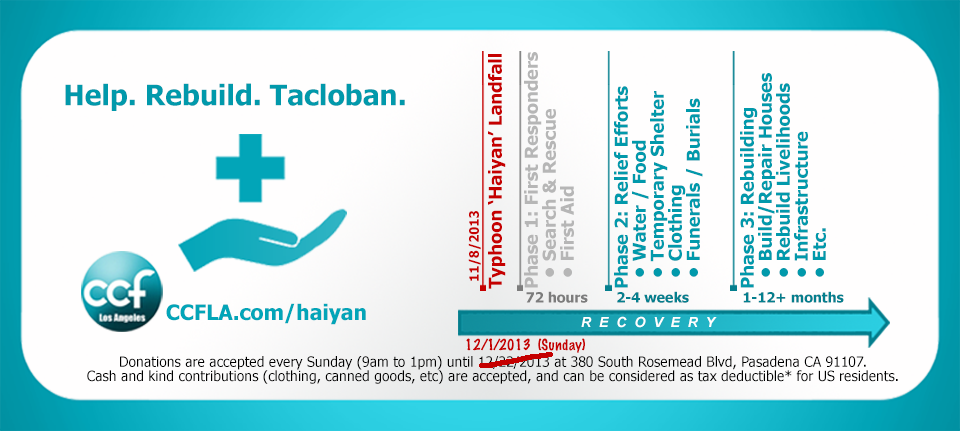 FREQUENTLY ASKED QUESTIONS

Q: How can I donate?
A: Between now and Dec 1, 2013, we are accepting both cash and kind donations (clothing, canned goods, etc). You can drop them off at our church location on Sundays (9am to 1pm) at 380 South Rosemead Blvd, Pasadena, CA 91107. Please note that there is another church that uses the same facility in the afternoon, so please schedule accordingly.

Q: I am not available on Sundays to drop off some kind donations, how else can I give?
A: We can potentially schedule an alternate time to meet with you and accept your donations, please contact us directly.

Q: Can I give cash donations online?
A: Yes, you can submit your donations online thru our GIVE page. Please indicate "Typhoon Haiyan/Yolanda" in the comments section. Credit cards and bank transfers (from debit and savings accounts) are accepted.

Q: I am a US resident, will my donation be considered tax deductible?
A: Since CCF Los Angeles is a U.S. based charity institution, all donations given thru CCF Los Angeles can be considered as tax deductible. As always, please consult your tax accountants.

Q: How will CCF Los Angeles handle my donation?
A: Cash contributions will be remitted directly to our mother church — CCF Philippines (http://www.ccf.org.ph/). They are currently doing active relief efforts for the affected areas. All goods will be shipped thru sea containers (aka balikbayan box) to the affected areas.

Q: Won't it be financially impractical to ship goods?
A: That's a good point — however, our brothers and sisters at CitiXpress Shipping has generously offered their shipping services for FREE for any relief efforts. God bless their generous hearts.

Q: How long would it take for my kind donations to reach the typhoon victims?
A: While the actual freight cargo might take 3 weeks; we also anticipate an additional 2+ weeks for coordination with the ground relief staff.

Q: How much administrative overhead will CCF Los Angeles deduct from my cash contributions?
A: CCF Los Angeles will not be deducting any fees for administrative charges. All cash contributions will be sent in it's entirety.