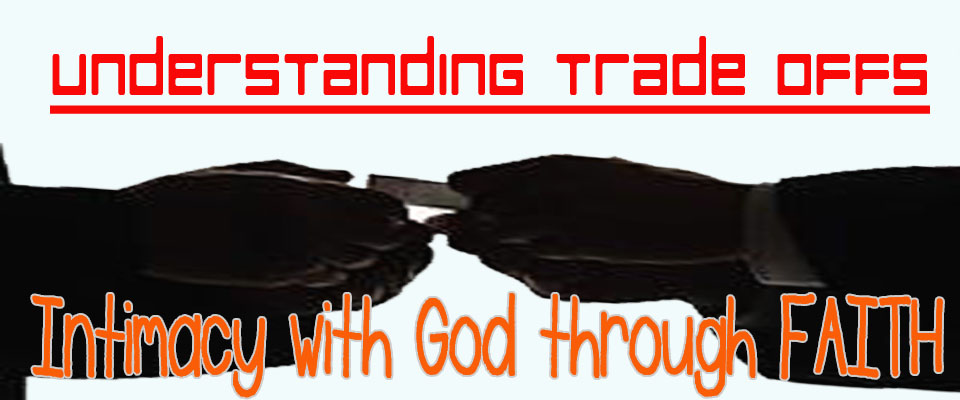 And He was saying to them all, "If anyone wishes to come after Me, he must deny himself, and take up his cross daily and follow Me.   For whoever wishes to save his life will lose it, but whoever loses his life for My sake, he is the one who will save it. For what is a man profited if he gains the whole world, and loses or forfeits himself? For whoever is ashamed of Me and My words, the Son of Man will be ashamed of him when He comes in His glory, and the glory of the      Father and of the holy angels.
Luke 9:23-26
 A trade off is defined as an exchange that occurs in return for another,   relinquishing one benefit for the advantage of another regarded as more   desirable.
In last Sunday's message, Pastor Danny shared with us Jesus' command that we exchange the riches of this world for a deep and personal relationship with Him.  He requires two things from us in Luke 9 : first o deny ourselves, take up our cross daily and follow Him.  And second, to lose our life for His name's sake, so that He can save us.
Self denial is a challenge most Christians find difficult to overcome.  It  becomes so much easier to compromise and to choose to be lukewarm in our relationship with God, rather than completely allowing Him to be Lord over lives.  We can only achieve self denial if we fully understand the benefits of completely surrendering to God's will.  But this complete surrender requires FAITH.  And without faith, it will be impossible for us to deny ourselves. . . Or to pursue a deeper and more personal relationship with God.
But faith is not an impossible task.  Hebrews 11 tells us of the many men of the bible who were known not for the miracles or their prophecies, but for the faith they had in God.  We are reminded of the life of Abraham, Abel, Isaac, Joseph, Moses and so many others.  These men did not look at their       circumstances, no matter how comfortable their earthly life had been, they opted to choose to obey God and follow Him wherever He led them.  And because they obeyed, they experienced and witness God's many faithful acts in their lives and this made their faith stronger as they continued to grow in intimacy with God.  So that as Moses said in Exodus 33, he craved and searched for God's continued presence in life, because it was only when he felt God's presence with him that he had felt protected and distinguished.
Christianity is simple and not at all complicated, but the enemy and our selfish nature would like you to believe otherwise.  He puts a seed of question in your mind, to shake the foundations of our faith — but in the end we should always remember that our faith is not based on miracles, it is not based on blessings, it is based on answered prayers . . . Our faith should be based on the character of God.  We have to always keep in mind that we have a God who is faithful, who is gracious, who is loving and who is powerful.  We should set our eyes on Him and what would please Him.  Because when He is pleased with us, His presence will be with us always.
The challenge for us today is:  Can we deny ourselves in order for God to work in our lives?  Can we take that next step in faith?