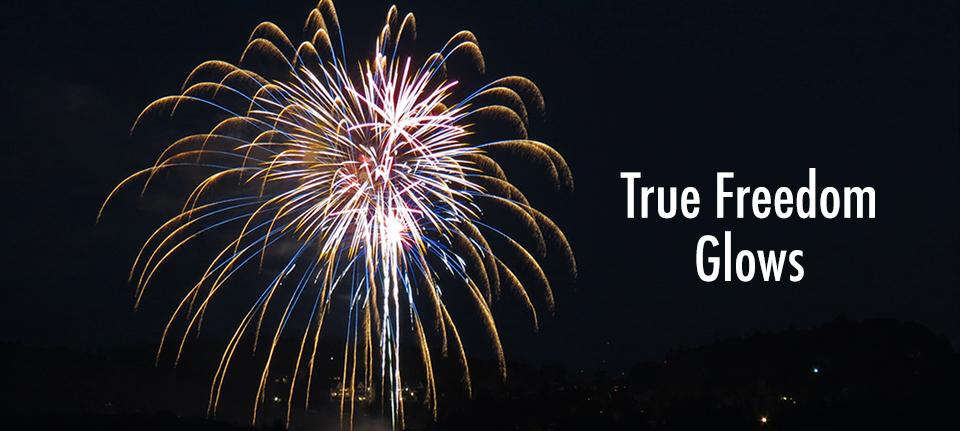 "So Jesus was saying to those Jews who had believed Him, "if you continue in My word, then you are truly disciples of Mine; and you will know the truth, and the truth will make you free." They answered Him; "We are Abraham's descendants and have never yet been enslaved to anyone; how is it that you say, "you will become free"? Jesus answered them, "truly, truly I say to you, everyone who commits sin is the slave of sin. The slave does not remain in the house forever; the son does remain forever. So if the Son makes you free, you will be free indeed."                            John 8:31-36
If the Son makes you free, you will be free indeed – but what is freedom?
A slave is not free because he belongs to his master and can only do the things his master tells him to do. If you are not a slave then you are free to do whatever you want to do. So what did Jesus mean that we will be free?
There is a condition to the freedom offered by Jesus – He said that we have to bed His disciples and as His disciples we are to abide in Him, which means that we are to remain in God's Word. He continues to say that if we spend time in the word of God, then we will know the truth and know the true Word, who is Jesus Christ. And it is this truth that will set us free.
"Therefore there is now no condemnation for those who are in Christ Jesus. For the law of the Spirit of life in Christ Jesus has set you free from the law of sin and of death. For what the Law could not do, weak as it was through the flesh, God did: sending His own Son in the likeness of sinful flesh and as an offering for sin, He condemned sin in the flesh, so that the requirement of the Law might be fulfilled in us, who do not walk according to the flesh but according to the flesh set their minds on the things of the flesh, but those who are according to the Spirit, the things of the Spirit." (Romans 8:1-5) It was Jesus who took the condemnation for our sin. God doesn't change His mind. Sin had to be paid its wages – which is death. God did not break His own law, rather He fulfilled His law by having His Son Jesus Christ to take the form of a human being to pay for our sins. That is why it is only through Jesus Christ that we have forgiveness and redemption of our souls.
"for the mind set on the flesh is death, but the mind set on the flesh is hostile toward God; for it does not subject itself to the law of God, for it is not even able to do so, and those who are in the flesh cannot please God." (Romans 8:6-8) This the truth about us – the irony is that more often than not we are not even aware of it. The flesh and the spirit is always going in opposite directions. The flesh will continue to rationalize but all these rationalization will boil down to just one thing – sin. No matter what we chose to call it, it is sin. Apart from Christ, we are left only with sin because it is our nature.   This is the reason why we need to be set free, this is the reason why we need a Savior.
With freedom comes responsibility.                                                                            
Galatians 5:1 says "It was for freedom that Christ set us free therefore keep standing firm and do not be subject again to a yoke of slavery." Jesus has already paid for our sins. We are now free from the law and death. We are now free from the spirit of life in Christ Jesus – we should stand firm and refuse to go back. Let us now succumb to going back to our life of slavery to sin, but instead let us live for God.
There is a warning we should heed: "for you were called to freedom, brethren; only do not turn your freedom into an opportunity for the flesh, but through love serve one another". (Galatians 5:13) Do not use your freedom to continue to indulge in your sinful nature just because Christ has already paid for it. We are called to a life of freedom, but with this freedom comes responsibility. Some people take the grace of God and trample on the sacrifice that Jesus Christ has done for us on the cross. We are to turn away from sin and turn to God. In the book of Jude it says " certain person have crept unnoticed, those who were long beforehand marked out for this condemnation, ungodly person who turn the grace of our God into licentiousness and deny our only Master and Lord, Jesus Christ."
Some people think that just because Jesus has already paid for our sins, it gives them a "get out of jail" card or a license to sin. They are mis-using the grace of God in thinking that they can continue to sin because through Jesus all our sins – past, present and future have been forgiven. This is an abuse of God's grace and mercy.
But Paul encourages us in Romans 6:14-18 "For sin shall no longer be your master, because you are not under the law, but under grace. What then? Shall we sin because we are not under the law but under grace? By no means! Don't you know that when you offer yourselves to someone as obedient slaves, you are slave of the one you obey – whether you are slaves to sin, which leads to death, or to obedience, which leads to righteousness? But thanks be to God that, though you used to be slaves to sin, you have come to obey from your heart the pattern of teaching that has now claimed your allegiance. You have been set free from sin and have become slaves to righteousness."
It is because of the freedom we have through Christ that we can:
GIVE 2 Corinthians 9:6-7
LOVE Romans 13:8-10
OBEY John 14:15; 21
WORSHIP Romans 12:1
SERVE Galatians 5:13
If we exercise our freedom in Christ Jesus, then we can become the light of the world. . . a beacon to those in the darkness, so that they will know that there can be freedom if we come to Jesus and accept His invitation to enter into His light.