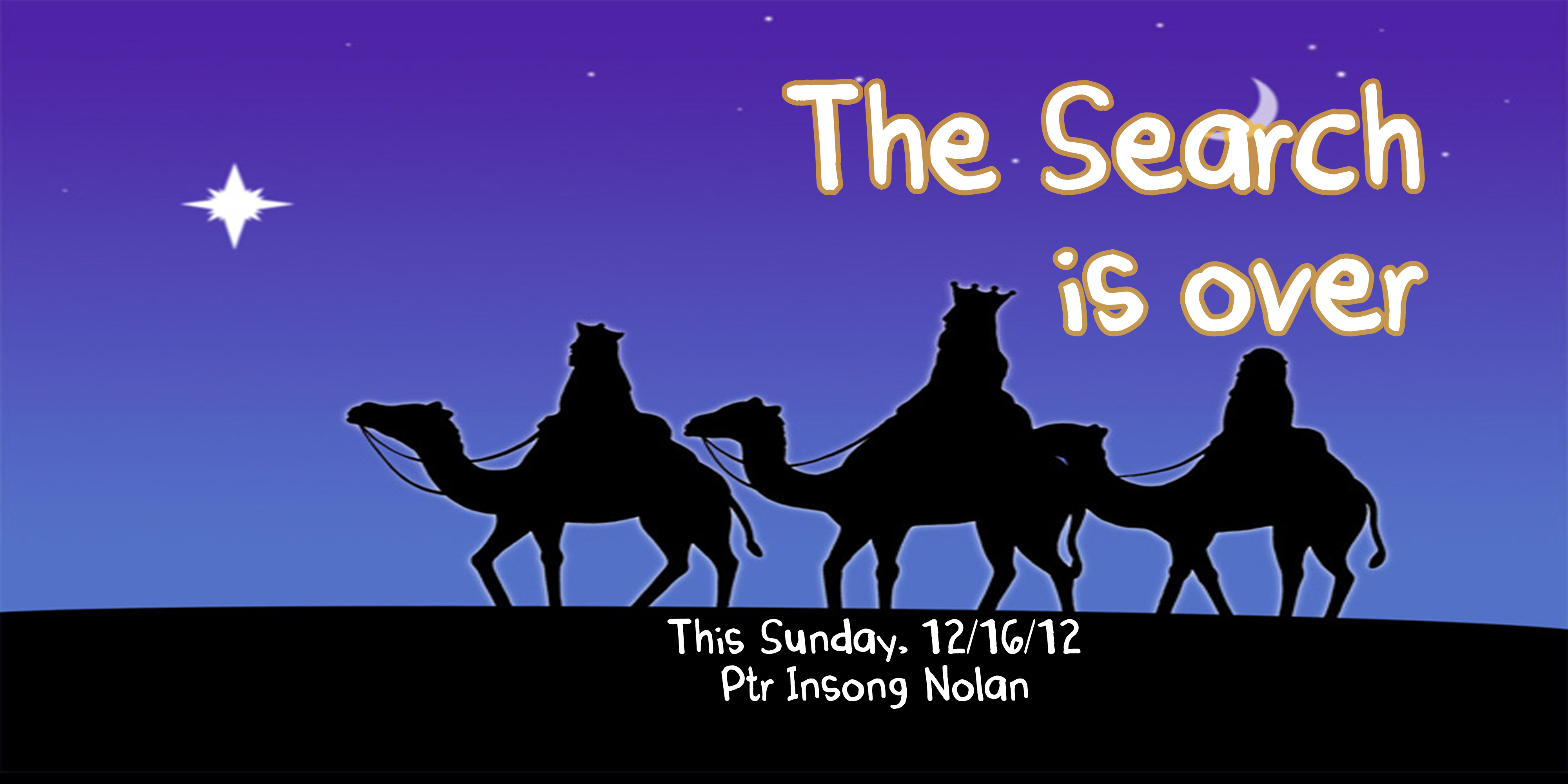 In Matthew 2, we find the story of the magi.  The magi were astronomers or dream interpreters who came from the east.  It is assumed that they traveled anywhere from 500-1000 miles over a period of 3—12 months in search for the child Jesus.  They did this because they were in search for the Messiah, the anointed one.
In their journey, they were guided by a star until they came to Jerusalem where they started asking for the whereabouts of the promised King of the Jews.  When Herod heard of this, he had them brought to him and he started inquiring about the child who has been prophesied to be the King of the Jews.  He gave the magi instructions to search for the child as soon as they found him, to tell him so that he too might go and visit.  But as the story goes, the magi were instructed by an angel not to return to Herod and so they went home using another route.  Herod in his rage and fearing the stability of his crown had all male children below the age of 2 killed.
The magi however, had achieved the goal they set out to do.  They set out to find the Messiah and when they found Him, they fell to the ground, worshipped Him and offered their gifts.  Gifts of gold, frankincense and myrrh.  Gold a gift befitting to offer to a king.  Frankincense, a very special spice, a gift befitting to offer to God.  Myrrh, a special aloe, a gift fit to offer to a condemned person.
These magi understood who and what Jesus was — He was Immanuel, He was a King, and He was a Messiah — and they treated Him accordingly.  They came not only bearing precious gifts but more importantly they came acknowledging who He is and what He is about.  When they bowed down before Him in worship, they offered Him their hearts.
Our life is somewhat similar to the journey these magi had to take in order to find the child Jesus.  Most of us have been searching all our lives to find intimacy with Him. . . Unfortunately for many of us, we have been looking in the wrong places.
There is a vacuum in our hearts that can only be filled and completed by the presence of God in our lives and yet we stubbornly persist in filling this void with other things such as our careers, our families, power, money, pride, bitterness, anger . . . And all the while ranting that we need God in our lives and yet make no attempt to really look for Him.
God, on the other hand, has been reaching out to us.  Giving us signs — such as the star that guided the magi to Jesus –  He has been showing us signs, markers in order to lead us to where He wants us to go . . . But we have chosen not to follow.  These markers are there for us so that we may find our way home to Jesus.
Jesus was born on Christmas two thousand years ago so that we may have life.  He was sent to us out of love and mercy . . . And the only way we can respond is to come before Him in worship.
We come to worship Him for who He is and for what He has given us.  We do not come to worship for what we can receive but rather we come because He is  our Jesus.  He is our Immanuel.  He is our King.  And He is our Messiah.
The challenge for us this Christmas, is for us to look beyond the frivolities and focus on the real meaning of Christmas.  Like the magi, our search should find fulfillment this season — we should be able to find Jesus, fall down on the ground, worship Him and offer Him the gift of our hearts.
Pastor Insong reminded us that our search can be over if we look to Jesus and receive Him in our hearts as our Lord and Savior.
Does your heart really belong to Jesus?