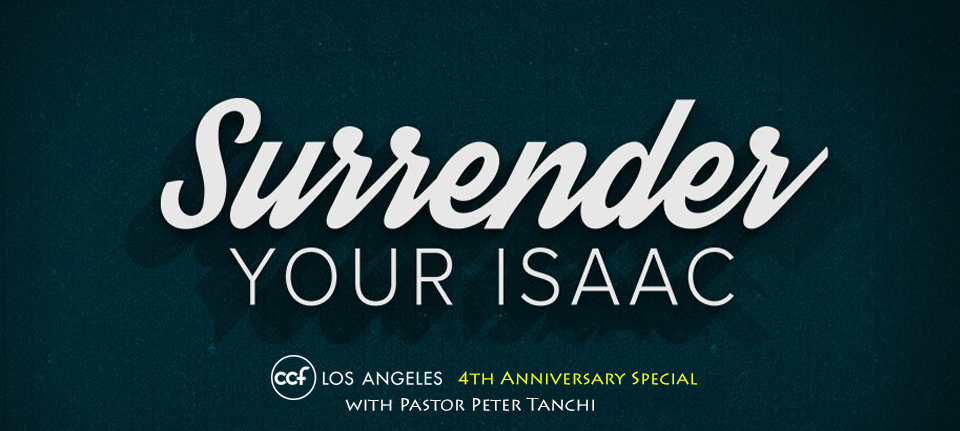 After many years of walking with the Lord, God gave Abraham the ultimate test of faith. He asked Abraham to offer Isaac, his one and only son, whom he loved.
What is Your Isaac?
Isaac was God's promised blessing to Abraham. Through him God promised to multiply Abraham's descendants and make him the father of many nations. When God tested Abraham, it was meant to keep Isaac from taking God's place in Abraham's heart.

Your "Isaac" may be a blessing that you love and cherish the most. It could be money, career or a relationship. But it becomes an idol when it takes the place of God in your life. We commit idolatry when we love anything or anyone more than God. 

Idolatry is the root sin of humanity. Idols give us false promises that they cannot fulfill, for only God can satisfy the innermost longings of our hearts. Eventually, idols destroy lives. This is why God wants us to be free from idolatry. 
Surrender Promptly
(Genesis 22:3)
When God told Abraham to sacrifice his son, he surrendered promptly. He honored God and obeyed Him immediately. Whatever God tells you to do, do it promptly. Do not drown out the voice of God in your life by delaying. Delayed obedience is disobedience. 
Surrender in Faith
(Genesis 22:5)
Abraham surrendered in faith because he believed God's promise that his descendants will come from Isaac (Hebrews 11:17-19). Surrendering in faith is impossible if you do not know God. But if you know God and His Word, you can trust in His character to bring you through problems no matter how difficult they may be. 
Surrender with Anticipation
(Genesis 22:8)
Abraham trusted God to provide the lamb for the burnt offering. He knew that God is faithful and that when He gives a promise, He will do it. Isaac trusted his father and did not fight back when Abraham tied him up to be offered as a sacrifice. Both father and son surrendered with anticipation that God will keep His promise to provide, which He did. God provided a ram as a substitute for the burnt offering, just as He gave Jesus as a substitute to die for our sins in our place so that we may have eternal life. 

Have you surrendered your Isaac to God? There are certain things you will never learn about God unless you surrender and obey. Surrender promptly, in faith and wi