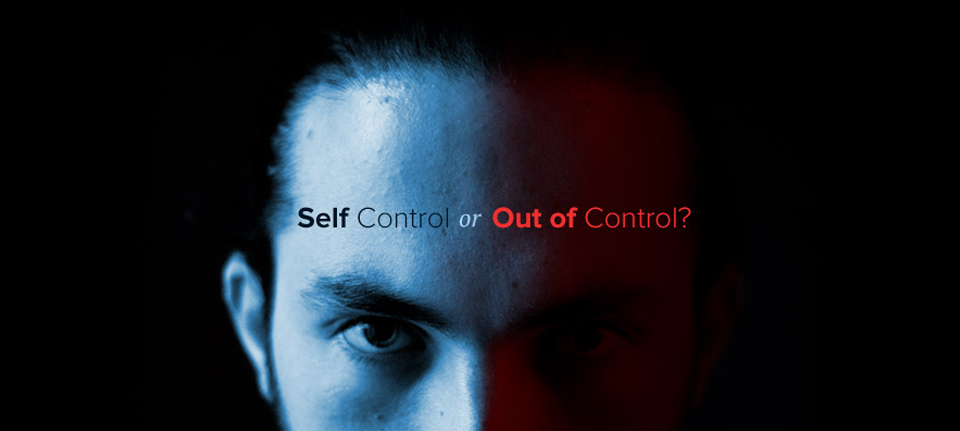 "For the grace of God that brings salvation has appeared to all men. 12 It teaches us to say 'No' to ungodliness and worldly passions, and to live self-controlled, upright and godly lives in this present age, 13 while we wait for the blessed hope-the glorious appearing of our great God and Savior, Jesus Christ, 14 who gave Himself for us to redeem us from all wickedness and to purify for Himself a people that are His very own, eager to do what is good." Titus 2:11-14
Is your life showing self control? Or are you out of control?  As Christians, we are required to have self control, since self control is Spirit controlled.  Having self control means that we submit ourselves to the control of the Spirit because this is a fruit of the Holy Spirit.  (Galatians 5:22-25)  This is a must for every follower of Jesus Christ and is a key to an abundant life and so that we can become a reflection of Jesus Christ to the world.
Meaning of the Self Control.
Self control is from the Greek word egkrateria, is also translated as "temperance".  It comes from the word for inner power or strength.  It refers to one who holds himself in check; one who gets a grip on.
We live in a godless society and world, and it is only by God's grace that we have been given the divine power for everything we need for life and godliness through our knowledge of Christ who called us by His own glory and goodness.  For this very reason, make every effort to add to your faith goodness, and to goodness, knowledge and to knowledge, self control.  (2 Peter 1:4-6)
It is only by the power of the Holy Spirit that we are able to produce the fruits of the Holy Spirit in our lives.  We can try to do this on our own, but we will miserably fail because apart of the Holy Spirit we can do nothing.
We see people around us losing self control over so many indulgences — food, shopping, money, vices etc.  But Paul writes that we should be alert and self controlled (1Thessalonians 5:6) because our adversary prowls around like a roaring lion, waiting to devour (1 Peter 5:8).
This is a constant battle of good and evil in our life.  Paul reminds us of this truth in Romans 7:18-19.  he says that every time I want to  do good, evil is right there along side of it.  This is the reality of the Christian life.  It is a constant struggle, a struggle which can only be won if we have the Holy Spirit in our lives.
King Saul lacked self control and so the Spirit of the Lord left Him.  Because of this David was anointed king.  David on the other hand, portrayed remarkable self control.  Although he had an opportunity to kill King Saul, he did not raise a hand against him out of respect for him as God's anointed.  David knew that he would assume the throne when God wanted him to, not before and definitely not by his own efforts.
Others believe that self control is a sign of weakness, but Paul understood that when we realize our true weaknesses then we can really be strong.  He wrote in 2 Cor 12:9 " and He has said to me, "My grace is sufficient for you, for power is perfected in weakness."  Most gladly, therefore, I will rather boast about my weaknesses, so that the power of Christ may dwell in me."
It is only by the grace and power of God that we are able to control our weaknesses.
God's Grace Redeems Us
Have you received the grace of God?  Have you placed your faith in Jesus Christ for your salvation?  Have you been redeemed?  Do you live a life pleasing to God?   (Titus 2:11-14; Ephesians 2:8-9)
God's Grace Transforms Us
The children of God should live unlike the world.  The world is going one way, we should go the other.  We are called forth to bring light to the world, to bring a difference into this world so that people will see Jesus in us.  It is the grace of God that will teach us and transform us to be godly, Christ-like people.  We are being conformed to the image of His Son.  (Titus 2: 11-14; Romans 8:29)
God's Grace Rewards Us
Our God is our Great Rewarder.  It is His desire to reward us.  He is a good and gracious God.  If we allow him to chisel away at the ungodly things in our life so that the face of His Son will shine through us.  In the end, would we not want Him to say to us "Well done, good and faithful slave." (Titus 2:11-14; Matthew 25:21)