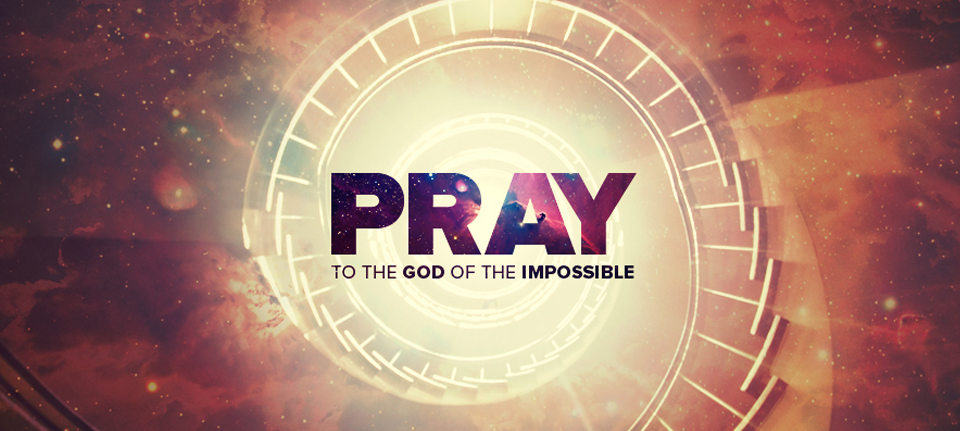 What will have the greatest impact on our prayer life is how well we know God. The more we know His character and attributes, the more we will pray to Him, trust Him and obey Him. One of God's attributes is that He is the God of the impossible!
Jeremiah 32:17

"Ah, Sovereign LORD, you have made the heavens and the earth by your great power and outstretched arm. Nothing is too hard for you."
God set the stars, sun, moon and earth in perfect place, order, precision and balance. This amazing display of God's handiwork is a solid testament to the God of the impossible. Having created everything out of nothing, truly there is nothing too difficult for Him!
Jeremiah 32:27

"I am the LORD, the God of all mankind. Is anything too hard for me? 
God saw our unformed body when we were woven inside our mother's womb. He knitted together the intricate, delicate parts of our body (Psalm 139:13-15). God formed our fingerprints, His mark that makes each one of us unique. We are the work of the God of the impossible!
 
God is the God of world history. He is the God of eternity past, present and eternity future. But He is also the God of our personal history. He saw us before we were born and has written the story of our life. God our Father is constantly watching over us day in and day out (Psalm 139:16-17).
 
Remember this when tempted to fret, doubt or worry:
 
"My responsibility is to think about God. It's God's responsibility to think about me." (Mondays with my Old Pastor by Jose Navajo)
The God of the Impossible
(Jeremiah 32 in context)
During the time that Babylon was laying siege to Jerusalem, God spoke to Jeremiah to buy the field at Anathoth from his cousin Hanamel. Jeremiah obeyed in spite of the imminent Babylonian invasion. But Jeremiah knew God. He prayed, he trusted and obeyed because he knew that God is the God of impossible. He trusted God who said that houses, fields and vineyards will again be bought in this land. This was fulfilled past Jeremiah's lifetime, but his obedience benefited future generations.
 
God is the God of the impossible, therefore regardless of our situation we should pray, trust and obey. Many times God will not change our situation, but He will change our heart, perspective and desires. When we come to a point of complete surrender, we are ready to receive the blessing of experiencing the God of the impossible.