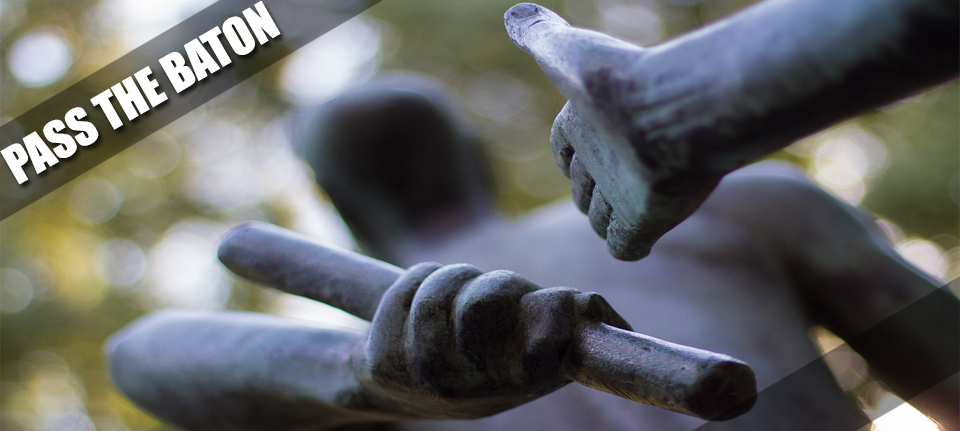 "These are the commands, decrees and laws the Lord your God directed me to teach you to observe in the land that you are crossing the Jordan to possess so that you, your children and their children after them  may fear the Lord, your God as long as you live by keeping all his decrees and commands that I give you, and so that you may enjoy long life."                                                         Deuteronomy 6:1-2
In every relay race there is a receiver and a passer.  The baton receiver must always be facing forward, running as fast as he can without slowing down while the baton passer running behind him must do the same, to run as fast as he could so that he can pass the baton over.  The receiver never looks back but instead keeps his eyes fixed on the goal trusting that the person behind him will hand him the baton.
The Christian life is a relay race. . . And similar to the generation of Moses, who wanted to ensure that they would be able to pass on to the next generation the commands, the decrees and the laws that the Lord our God has given them.
But often times there is a huge gap between the before and the now. And often times we feel that there is a huge chiasm that cannot be bridged. . . But this should not be the case.  Each generation should be able to reach out and bridge that gap in order for us to pass on the baton.
We should learn what was passed on and pass on what was learned.
This is God's will for us that we pass on His commands to the next generation. That is why discipleship starts at home — it is the parent's duty to disciple their children and raise them to be godly.
But how do we do this?  Deuteronomy 6:6 says " impress them on your children.  Talk about them when you sit at home and when you walk along the road, when you lie down and when you get up."
This reminds us that discipleship is intergenerational.  We have to learn from the "before" generation and then pass this on to the "now" generation.  Learning emphasizes not just knowledge but more importantly transformation.  Learning does not make any impact in your life unless it is applied into your life.  This is what Moses wanted to impress on the next generation of Israelites, their knowledge should be translated into application.  It should become a lifestyle.
These are some of the things that hinder us from passing on the baton:
1. when we say " I don't have time" or "it's too late"
2. Generation gap
3. When we think "they might make fun of me" or think "they don't need me"
4. When we think "that's someone else's role" or "there are other people who are better than me"
Often times we allow these to prevent us from passing on the baton.  Despite being witnesses to God's power and His love, much like the Israelites we often allow our insecurities and anxieties to take the  better of us and just let the world pass us by.
But God does not want this of us.  He wants us to take an active role and to teach the younger generation.  To witness to them about His mercy, about His power, about His love and about His grace.  He wants to use us, He wants to use our stories in order to teach them about who He is.
The Israelites followed the Lord during Moses' time, then during the time of Joshua, and another generation after Joshua died, but when that generation died the Israelites did evil in the eye of the Lord and served the Baals. (Judges 2:11)
We can pass on the baton 2 ways:  we can do it right, pass the baton properly and the next generation is going to live it out or we wont be able to do it properly and the next generation losses their way.
What kind of legacy do we want to leave the next generation?  Will we be able to pass on our passion for Jesus?  Will we be able to tell them "I am on fire for Jesus because He loves me and He gave His life for me" or will be content to allow the world to influence our children?