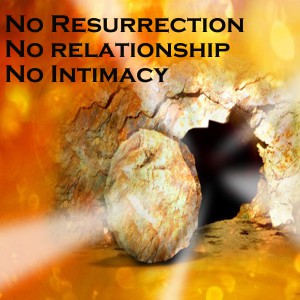 "Behold, I stand at the door and knock; if anyone hears My voice and opens the door, I will come in to him and will dine with him, and he with Me." Revelation 3:20
God invites us to intimacy through Jesus Christ.  He knocks, we respond.  The picture of dining together is one of intimacy for you do not just ask anyone to come into your home and dine with you. You only invite those people with whom you want to be intimate.
"But what does it say? "THE WORD IS NEAR YOU, IN YOUR MOUTH AND IN YOUR HEART"—that is, the word of faith which we are preaching, 9 [a]that if you confess with your mouth Jesus as Lord, and believe in your heart that God raised Him from the dead, you will be saved; 10 for with the heart a person believes, [b]resulting in righteousness, and with the mouth he confesses, [c]resulting in salvation." Romans 8:8-10
NO RESURRECTION, NO RELATIONSHIP, NO INTIMACY WITH GOD.
*Image downloaded from google