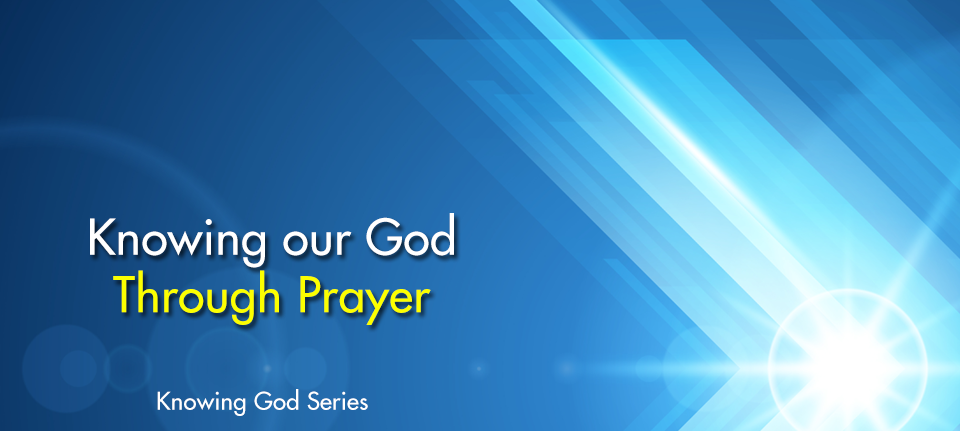 Jeremiah 33:1-3
While Jeremiah was still confined in the courtyard of the guard, the word of the Lord came to him a second time: 2 "This is what the Lord says, he who made the earth, the Lord who formed it and established it—the Lord is his name: 3 'Call to me and I will answer you and tell you great and unsearchable things you do not know.'
What is prayer?
Prayer is simply talking to God. No flair. No technicalities. No special formulas. Just talking. We have been confined to a preset formulated prayers, to a set of do's and don'ts when it comes to praying. But prayer is actually just talking to God. . . nothing else. However it does not stop there – Prayer is also listening to what God is telling you to do.
Prayer is conversation with God; the intercourse of the soul with God, not in contemplation or meditation, but in direct address to him. Prayer may be oral or mental, occasional or constant, ejaculatory or formal. It is a "beseeching the Lord" (Ex 32:11); "pouring out the soul before the Lord" (1Sam 1:15); "praying and crying to heaven" (2 Chr 32:20); " seeking unto God and making supplication" (Job 8:5); "drawing near to God" (Ps 73:28); "bowing the knees" (Eph 3:14). Prayer presupposes a belief in the personality of God, His ability and willingness to communicate with us, His personal control of all things, and of all His creatures and all their actions.
To simplify: Prayer is a conversation with God – I speak to Him and He speaks to me.
So how does God talk to us? God can talk to us in three ways:
Through the Bible
Through godly people – your discipleship group
Through events and circumstances
-although we are free to make our choices, we can escape the consequences of our godly choices.
God spoke to Jeremiah and He commanded him to bring a message to the king. Jeremiah just wanted to obey God but because of this he was arrested. And then the Lord spoke to Jeremiah a second time and God tells Jeremiah "call to Me and I will answer you and tell you great and unsearchable things you do not know." This shows us that prayer is ordained. The beauty of prayer is that when we converse with God, He has promised to answer.
Abraham was called by God, was asked to leave his home and was promised a son and that he would be the father of a great nation. Abraham obeyed not because he saw the immediate fruits of God's promises but because he was in constant conversation with God that his faith God grew. It was in this constant conversation with God that Abraham knew more and more of God and his faith grew deeper. As his faith was tested, it was strengthened. He remained focus on God, followed where God led him and trusted in God's faithfulness. Even when God asked him to sacrifice his son, Abraham did not question but continued to obey. It was by faith that Abraham knew that God would fulfill His promises through Isaac. Hebrews 11:1 defines faith as "now faith is the assurance of things hoped for, the conviction of things not seen. " When you see things happening then that is no longer faith, faith is believing in the things you have not yet seen. We have been constantly encouraged to walk by faith and not by sight. Unfortunately our first impulse is to be proud and we would rather not ask. Other times we just go ahead with our plans without waiting for God's answer and just tell God to bless our plans.
Prayer is the antidote of uncertainty. When we are unsure of what is happening in our lives, unsure of what tomorrow brings. . . instead of worrying, just pray.
In Jeremiah 29:4-13 God was commanding the Israelites to pray for Babylon and for its welfare. This was a command that the Israelites did not immediately understand — the Babylonians were their enemies, they had taken the Israelites captive and yet God was telling them to pray to the Lord for Babylon. Often when placed in a similar situation, we tend to complain and not trust God in His plans for us. God had also warned them about the false prophets who have come to cause doubt and stir confusion. . . but God's instructions to them was to settle down in Babylon and multiply. He promised that after 70 years He will return them to the Promised Land. This was God's promise to them — God is continuously at work. He is always in control. All we have to do is to talk to Him, converse with Him, and listen to Him.
This is God's promise to us even today – that if we seek Him and call upon Him, He will answer. He only asks that we Be still and Know that He is God (Ps 46:10). The only way for us to be still is to come to God in prayer.
What are the benefits of prayer?
Prayer brings PEACE.
Philippians 4:4-7 Prayer brings PROVISION.
God is commanding us to pray for our provision. . . He tells us to pray for our daily bread, not monthly or yearly. He wants us to depend on Him daily.
Prayer brings PROTECTION.
When we came to Jesus Christ, we also enlisted in His army. This is the armor of God for our protection against the world and the glue to this is PRAYER.
Prayer is conversing with God. . . all we have to do is talk to God and His promise is that He will reveal to us great and mighty things, things that we do not yet know. When we pray, God replies. . . When God replies what then do we do? Whatever the answer is – whether it is a Yes, No, or wait. . . this is the testing of our faith. How do we respond to God's answer to our prayer constantly reminding ourselves that we have a BIG God and even though our faith is small it doesn't matter – let us continue to obey in faith. And as we obey, our faith is growing. . . and we draw closer to God.