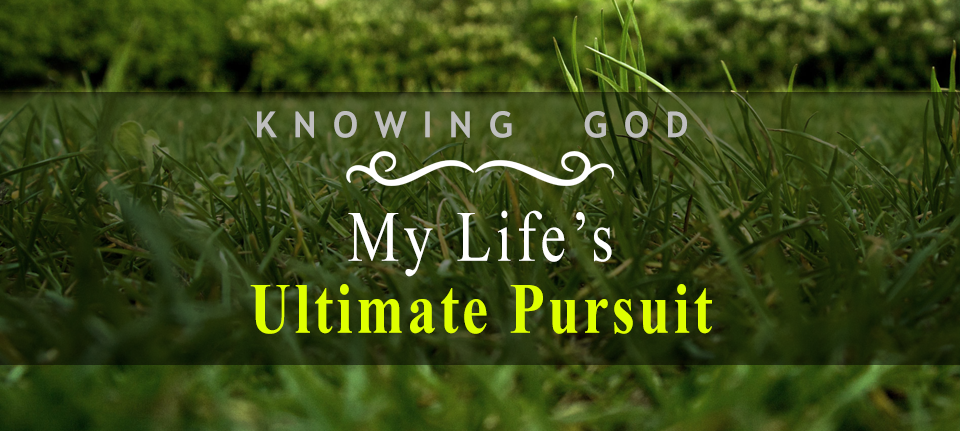 "Thus says the Lord, "Let not a wise man boast of his wisdom, and let not the mighty man boast of his might, let not a rich man boast of his riches; 24 but let him who boasts boast of this, that he understands and knows Me, that I am the Lord … "
Jeremiah 9:23-24
Knowing God should be a Christian's ultimate life's purpose, it should be central and integral to our being.  This is emphasized in John 17:3 " This is eternal life, that they may know You, the only true God and Jesus Christ whom You have sent."  Because if we do not know God, then we are destined for eternal death.  Knowing God, knowing Jesus should be the center of our existence and not just one of the goals we are aiming for.  Everything should revolved around this knowledge.
In 1Kings 18 tells us one  story of Elijah, which is one of the most dramatic scenes in the Bible that shows God's awesome power!  There were 450 of Baal's prophet against Elijah but God showed us that He is the one true God.  Elijah's prayer was that the Lord would answer his prayers "so that the people may know that You, o Lord, are God".
At that time the  people had turned their backs on God and opted to worship other gods, but God in this instance proved to them that His power, His might and His existence cannot be denied.  That there is no other god other than Him.
Today, we find ourselves falling into the same trap. . . We turn our backs on the Lord forgetting just how powerful and gracious He is.  But God reminds us by the transformation of our lives that he alone can do that in us.  That He alone can change situations, that he alone can answer prayers.  That he alone is God.
The challenge for us today — is how do we remain on fire for God?  How do we remain passionate about knowing and searching for God?
We cannot say that we are on fire for God and continue to live a double life.  We cannot remain on the fence.  We have to make a choice — God's way or the world's way.  Titus 1:16 reminds us that iwe profess to know God, and yet by our deeds we deny Him.  We are insist on being detestable and disobedient.
We cannot live in indifference.  We cannot remain wavering between two opinions.  It is time we make a choice.  We cannot worship both the Baal's of this world and God.  We have to make a choice.
If we really knew God, then the problems of our lives will be greatly diminished because we would view things differently.  It is only when we truly know God, that our deeds will speak of the transformation that God is doing in our lives.
But does God want to be known?  YES He does.  It is His will for us to know Him.  The ultimate proof of this is that He sent Jesus Christ.  Jesus was sent so that we would come to know and understand God's intentions and plans for us.  But it is only when we allow ourselves to become Christ-like, is when we truly know God.
Why don't people really know God?
1. People are not told about the ultimate importance of knowing God.  (Psalm 78:3-7)
2. People do not really know God because they have no personal experience of Him.  We should have a deep personal encounter with God.
3. People confuse deeds for God with knowledge of God.  (Hosea 6:6)
4. Some simply do not want to know God because they know they are in sin which they enjoy and do not want to give up.  (Galatians 6:7)
How then can we really know God?
Jeremiah 29:13 tells us that if we seek Him, we will find Him if we search for Him with all our heart, then we will find Him.