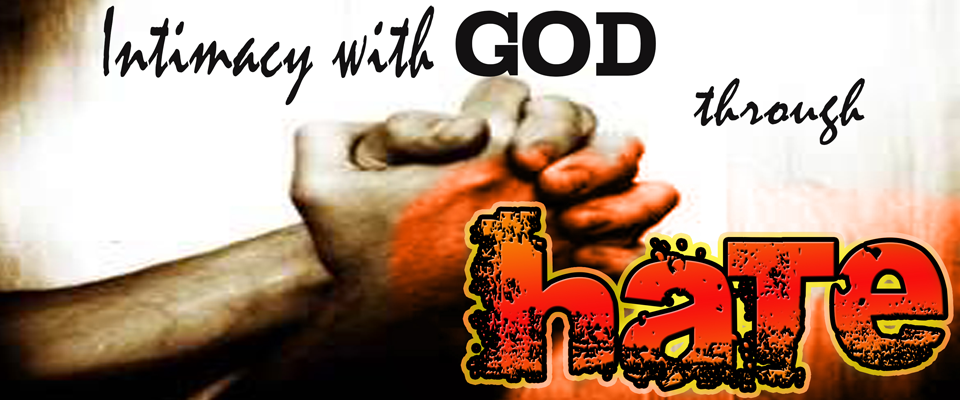 Intimacy signifies a sense of closeness based on something in common. This can also mean that we can find intimacy in hate.
But what is HATE? Hate means to detest something, to dislike something and not want it around you. The bible tells us that the Lord hates unrighteousness and wickedness. (Psalms 5:4; Psalms 45:6-7) Those who are intimate with the Lord have this in common with Him. . . This is how we can foster intimacy with Him — to uphold righteousness and HATE wickedness in our lives. Proverbs 8:13 says " the fear of the Lord is to hate evil, pride and arrogance and the evil way". This is how declare we are Christians, this is what sets us apart. But the sad truth is, that often times, we who call ourselves children of God are prone to make compromises.
The reality is clearly stated in Galatians 5:17: "The sinful nature wants to do evil, which is just the opposite of what the Spirit wants. And the Spirit gives us desires that are the opposite of what the sinful nature desires. These two forces are constantly fighting each other, so you are not free to carry out your good intentions."
Inherent in us is our sinful nature and often times it directs us to do evil, to sin. Whereas the Spirit of God within us pushes us to do the opposite. This is the constant struggle in us and if we are not aware of this, we can fall into the trap of compromising. Because in order to "give in" to what our flesh craves, we tend to justify and intellectualize our actions. We end up choosing and just picking out the sins that we hate, and then create another level for the sins that are acceptable to us, in essence giving ourselves a license to sin. Paul admonishes us in Galatians 5:1 " It was for freedom that Christ set us free, therefore keep standing firm and do not be subject again to the yoke of slavery." This is a reminder to us that Jesus had broken the hold of sin over us, and given us the Holy Spirit to direct us so that we would live in freedom with a life that is pleasing to Him, but when we allow ourselves to compromise, we forfeit that freedom.
In order for us to overcome our sinful nature, we must surrender the desires of our flesh to God. We have to allow the Holy Spirit to transform us as Paul admonishes us "Walk by the Spirit and you will not carry out the desires of the flesh." (Galatians 5:16)