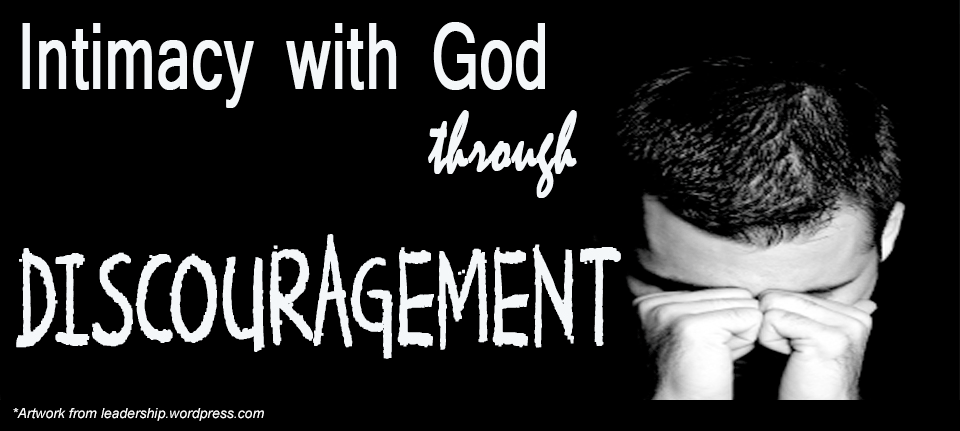 All of us go through periods in our life that we feel discouraged. And it is    during these times of discouragement that we feel that God is beyond our reach . . . But how exactly do we fall into the trap of discouragement.
Dion shared with us last Sunday, that often times we approach God with pre-conceived notions of what He will do and how He will answer.  We go to Him and in our minds we already know what we want Him to say.  Then when God doesn't give us what we want or answer us in a different way,  we get frustrated and discouraged or worse get mad at God.  But in Isaiah 55:8, God tells us "For my thoughts are not your thoughts, nor are your ways, My ways."
When we find ourselves in situations like this, we should STOP.  Stop and re-evaluate.  Is our current practice in pursuing intimacy with God working?  Is my quiet time allowing me to hear God?
We should not fall into the trap of putting God in a box, because this limits God and what He can do in our lives.  We should instead open ourselves to Him and allow Him to work in us and through us.
We should LOOK , for our own unique way of spending that time alone with God.  Our time with God should be as individualized as we are.  What may work for one person, may not work for another.  So in our pursuit of intimacy with God, we should look for that place where we are most comfortable with God and where we can feel and hear Him the most.
The life of a worshipper is consistently full of wandering and wondering through the world in the Word.  We should to each experience as an opportunity to see what God has planned for us as His plans for our lives continue to unfold, and to treat each experience as an opportunity to grow closer to God and to grow in faith.
Our challenge then becomes, how to find God in our experiences.
In order to see God in our lives, we should come to God in self denial with an open, willing and surrendered heart. . . Because it is only in this condition that God can completely fill us and transform us so that He can complete the work that He has started in us.  We should be able to LISTEN to what God is telling us.
But the thing is that often we expect him to speak to us in supernatural, spectacular experiences. . . But God doesnt always choose to do that.  There are times that He would speak to us in the barest of whispers. . . But if we are so caught up in activity, if we do not find time to be still and to be quiet. . . We will miss the chance to listen to God.
The formula for intimacy with God has never changed.  The only way we can have intimacy with God if we spend time with Him.  If we spend time focusing on who He is – on His love, His mercy, His grace.  We should look forward to spending time with Him, not for the things that He can give us but because of the love we have for Him.  We must continue to live each day knowing that He is the reason we live.
Often in life, we say that we feel as though God is so far away from us — but in reality, God isn't the one who has moved away, it is us who has chosen to move away.  And all the while, God is there everyday trying to get us to talk to Him, urging us to open our hearts to Him, open our minds to hear His voice.