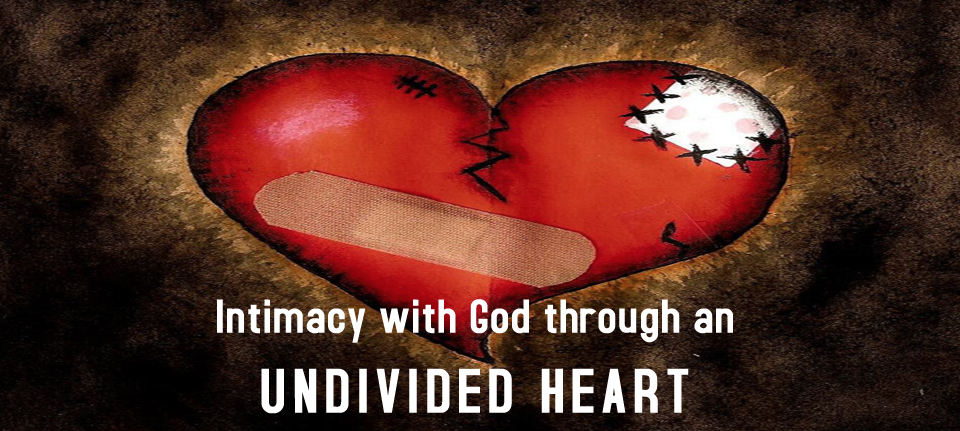 Intimacy does not happen by chance.  It is a choice.  If we sincerely desire to be intimate with God, we need to pursue it diligently and wholeheartedly.  It is important to ensure that our heart remains undivided so that we can become God's chosen people.
God wants to be the sole owner of our hearts.  He wants our hearts to be dedicated solely to Him for His specific purpose for us.  An undivided heart then becomes essential in our pursuit of intimacy with God since that was the purpose for which we were created — to be in a relationship with Him.  But apart from the grace of God, it is difficult if not impossible to remain an undivided heart.
God requires us to give Him all our heart, all our soul, all our strength, and all our mind (Luke 10:27).  He goes to tell us that we have to hate our own family in order to become His disciple (Luke 14:26).  This shows us that God demands our 100% attention.  He demands that our hearts remain undivided — that it can only be devoted to Him.  We cannot love God and the world at the same time because God's ways are the not world's ways (Matthew 6:24). . . And if we try to compromise, we will be unable to give God our 100% and end up divided, confused and lost.
Having an undivided heart is at the very heart of discipleship.  We cannot surrender ourselves completely and totally be dependent on God, if in our hearts we are relying on other people, things or even ourselves.  If we cannot deny ourselves — then we cannot experience God working in our lives and we will miss out on the transforming power of God's presence in our life.
When you make a decision to devote yourself to something or someone, there are certain things that you inevitably sacrifice. Opportunity cost is what you give up based on the decision you make.   For every opportunity cost, the underlying question is: Is it worth the sacrifice? When we choose the world over God, there will be an opportunity cost but the gain will be so small, so fleeting, so temporal. It surely isn't worth it.
Such was the case of King Solomon. He started out right with God, but he did not prioritize his relationship with Him. He allowed compromises in his life that turned out
turned his heart to other gods, and his heart was not fully devoted to the Lord.  We are equally susceptible to falling in love with the world. If we are not careful, if we allow little compromises to fester in our lives, we might find ourselves in a downward spiral, too. Spending time with God and His word fortifies the right relationships we need to keep exclusive and devoted to in our lives.
Moses, on the other hand, chose to give up a life of luxury and riches in Egypt in exchange for a life of intimacy with God.  Because of this choice, he continued to experience God's protection. provision and power in his life.  As he continued to see God working in him and through him, the more he became faithful and was able to commit and dedicate his life to God — he had an undivided heart.
When we follow Moses' example and choose to pursue an life of intimacy with God . . . When we choose to commit our heart to God—undivided, surrendered and dependent on Him, then He can work in our lives and we will dwell in His presence where we will be protected, provided for and distinguished.