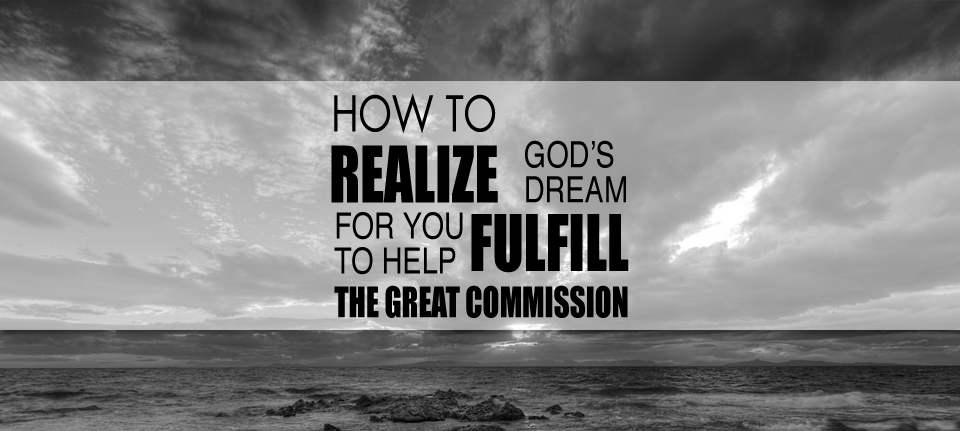 "Now to Him who is able to do immeasurably more than all we ask or imagine, according to His power that is at work within us, to Him to glory in the church and in Christ Jesus throughout all generations, for ever and ever!"  
Ephesians 3:20-21
   All of us have a dream.  A dream is defined as a condition or achievement that is longed for; it is something we aspire for.
A. God wants us to dream His dreams.  Genesis 37:1-5 illustrates the story of Joseph's dreams.  Jeremiah 29:11 says " For I know the plans I have for you, says the Lord, they are plans for good and not for evil, to give you a future and a hope."  A dream can only find power if we place power and importance into that dream.  Knowledge is nothing if we do not put it into application.  The founders of Campus Crusade for Christ and Christ's Commission Fellowship were big dreamers.  That is why today we are being trained to be a part of the fulfillment of that dream.
The Lord has a specific dream for each one of us, and He will put that dream into our hearts if we listen carefully.  But the only way we can hear Him is when we continue to pursue an intimate relationship with Him.
B.    God wants the dream He gives you to become a reality. (Joshua 3:1—3:3)
1. Clarify your dream
2. Be persistent in fulfilling it
3. Be patient to achieve it
4. Do not give up
5. Cross over as you follow leaders who take the first step in faith
Have you ever taken time to write down the dreams the Lord has instilled in you from His Word?  Are these dreams the goals in your life?
C. How can you realize God's dream for you? (Ephesians 3:20)
1. The Potential of your dreams—God is able.
2. The Production of action on your dreams—To do. (John 15:7-8).  God is  a person of action.  He does what He says.
3. The Perpetual nature of God's ability to deliver—Immeasurably more than what we can think or imagine
4. The Prescription for realizing our dreams—All we have to do is to ask.
5. The Power to make it happen—Is at work within us.
6. The Purpose of our dream: Give Him Glory in the church and in Jesus Christ in fulfillment of the Great Commission
The problems you can face in fulfilling your dreams.
"If you want your dreams to become a reality, there is something that you must do: it is pleasant to see dreams come true, but fools will not turn from evil to attain them" Proverbs 13:19
A. It starts with your Thought Life.
1. Always remember that we have an adversary.  1 Peter 5:8 reminds us that the "devil prowls like a roaring lion looking for you to eat up"
2. We have to understand the strategies of our adversary.  He uses the world and the flesh.  It is important to therefore to always guard your heart.
B. How to deal with constant attack
1. Purify the mind.
a. Metanoia—have a change of mind.  Have a pure thought life.
b. The Word of God is the cleaning agent. John 15:3
c. Allow yourself to be cleaned from the inside.
d. Always remember the importance of spiritual breathing. Exhale (confess your sins) – inhale (the power of the Holy Spirit so that we can filled and controlled by the Holy Spirit)
2. We have to be determined because we are in a spiritual battle.  We must prepare for it with our whole heart, to draw nearer to God in order that we can be cleansed.
3. We have to fortify ourselves.  We have to make God's Word real in our life so that God's word becomes second nature in our lives.  So that when temptation comes, the first thing that comes to mind is God's Word.