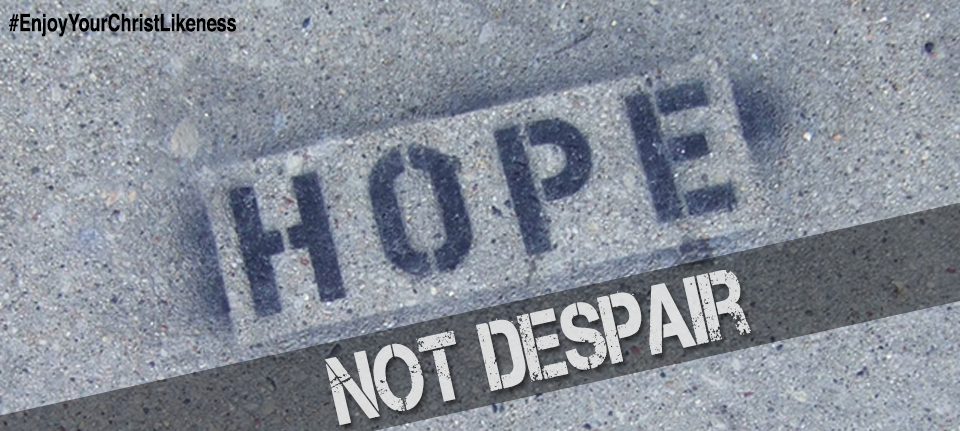 But people who depend on following the law to make them right are under a curse. As the Scriptures say, "They must do everything that is written in the law. If they do not always obey, they are under a curse."So it is clear that no one can be made right with God by the law. The Scriptures say, "The one who is right with God by faith will live forever."The law does not depend on faith. No, it says that the only way a person will find life by the law is to obey its commands.The law says we are under a curse for not always obeying it. But Christ took away that curse. He changed places with us and put himself under that curse. The Scriptures say, "Anyone who is hung on a tree is under a curse."      Galatians 3:10-13
What is Hope?  Hope is to believe that something desired may happen while Despair on the other hand, is the opposite, it is a feeling of being lost.  It is to give up, to lose hope.
In our world today, many are in despair. . . many are lost.  There are so many circumstances, factors and influences that can directly or indirectly bring us to hopelessness, to despair .  . . to being lost.  But these are the outside factors, the biggest factor that lead us to despair and being lost is actually SIN.  As the Scriptures say, "There is no one doing what is right,not even one.  There is no one who understands.  There is no one who is trying to be with God. They have all turned away from him, and now they are of no use to anyone.  There is no one who does good,not even one."  Romans 3:10-12
 This tells us that many are in need of hope and it then becomes an utmost urgency to bring to them the hope of Christ.
Until we fully and completely understand what sin is, what it does to us and what the consequence is — we will not fully and completely understand Jesus' sacrifice on the cross.  We will not be able to comprehend the importance and the magnitude
of the effect of His sacrifice is to our life, not this earthly life but our eternal life.
Sin has devastated every known relationship — man and God, man and man, and even man and nature.  It has generated cosmic chaos in the heavens between angles and demons.  It only waits to attack every baby born into this world.  It rules every human heart, and intends to bring every soul to damnation.  It has turned beauty into ugliness, form into deformity, greatness into nothingness.  Worse of all, the sinner continues to eagerly excuse his sin than admit it, his concern is to cover it rather than cure it.
Let us stop fooling ourselves and start calling it what it is SIN.  Because until we do, we will never be able to fully appreciate what Jesus has done for us.
What then is SIN?
1 John 3:4
NAS 4 Everyone who practices sin also practices lawlessness; and sin is lawlessness. 
This simply means that anything done against God's laws.  God has laws and sin is going against these laws . . . going against God's will leading to chaos and disobedience.  . . completely ignoring the divine moral laws of God.  It is living as if there is no God . Disobedience.  Violation.  Ignorance.  Total disregard of God's laws.  That is sin.
What does it do to you and me?
1. Sin defiles, pollutes, degrades.  Isaiah 64:6
2. Sin makes us rebellious.  Psalm 12:4
3. Sin makes us incurably disobedient.  Jeremiah 13:
4. Sin condemns to hell (spiritual death).  Romans 6:23
 Because our God is just and holy, sin will always be condemned.  He cannot tolerate this uncleanliness that is why we are doomed to an eternity in hell.  Sin has laid on every human being a curse with brutal implications for present day and eternity.  In the present, we will experience pain, suffering, sorrow and troubles while in the future it will bring us an eternal judgment in hell.  But instead of avoiding sin, man continues to fall into its traps.  And that is why God gave man the law so that we can see our sin and how cursed we are.  Romans 3:20 "for the more we know of God's laws, the clearer it becomes that we aren't obeying them; His laws 
serve only to make us see that we are sinners."
We are truly damned. . . UNTIL we understand the curse and humbly open our eyes and hearts to the Gospel so that it will have true meaning and value in our lives.  Roman 5:8-11 (NAS) But God demonstrates His own love toward us, in that while we were yet sinners, Christ died for us. Much more then, having now been justified by His blood, we shall be saved from the wrath of God through Him. For if while we were enemies we were reconciled to God through the death of His Son, much more, having been reconciled, we shall be saved by His life.