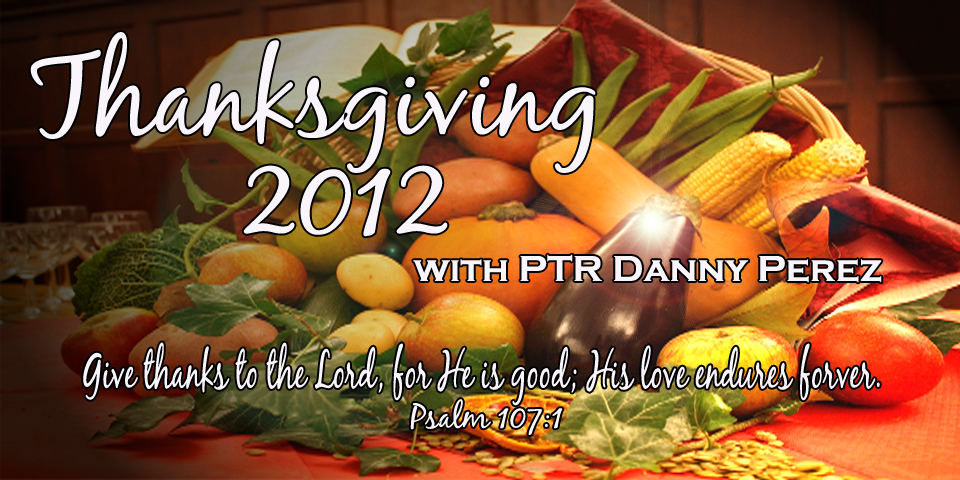 While He was on the way to Jerusalem, He was passing between Samaria and Galilee. As He entered a village, ten leprous men who stood at a distance met Him; and they raised their voices, saying, "Jesus, Master, have mercy on us!" When He saw them, He said to them, "Go and show yourselves to the priests." And as they were going, they were cleansed. Now one of them, when he saw that he had been healed, turned back, glorifying God with a loud voice, and he fell on his face at His feet, giving thanks to Him. And he was a Samaritan. Then Jesus answered and said, "Were there not ten cleansed? But the nine—where are they? Was no one found who returned to give glory to God, except this foreigner?"  And He said to him, "Stand up and go; your faith has made you well."
Luke 17:11-19
Intimacy with God thru ThanksGiving
The story of the 10 lepers is a story of thankfulness.
The truth is often times giving thanks is something we easily take for granted.  When we receive something or someone does something for us, we routinely utter the words "thank you" but do not back it up with true gratitude.
When it comes to giving thanks to God, we tend to give thanks only for the things we consider blessings, but the things we consider as trials — can we give thanks for them as well?
Ptr Danny shared with us the importance of having a thankful attitude.  He reminded us that as Christians we should be able to give thanks for everything. (1 Thessalonian  5:16-18) not  just the good we receive, but for the trials as well.
Having a grateful attitude is a testament to our faith in God.  If we truly believe that God is in control and that He is continually working for our good and  for His divine purpose for us, then we should be able to have a grateful heart in the midst of adversity.  This in essence is an evidence of our faith.
If we are ungrateful, then we will be unable to practice intimacy with God because God doesnt like the ungrateful. (2 Timothy 3:14).  If in spite of knowing God and seeing His power and divinity we harden our hearts and choose to be ungrateful (Romans 1:18-22) then we will remain in our sin . . . And therefore are not saved.
When we have faith, then we will believe that whatever God gives us is part of His divine agenda — whether it makes us comfortable, whether it is something we like or something that makes us uncomfortable or maybe it is something we do not like.  In all things and in all situations, we will continue to be thankful — this is the mark of our salvation.  It is when we can say "Thank you Lord!" even during the difficult and trying times because we know that God is continually at work and is continually in control. (Romans 8:28)
There are 2 kinds of thankfulness:  a worldly thankfulness that centers on the self that takes pride in oneself; and Biblical thankfulness that approaches God with humility because we understand that all that we have are because of Him and Him alone.
There are hindrances to having a biblical thankfulness:  doubts about God, selfishness, worldliness, having a critical spirit, impatience, lukewarmness, and anger towards God.  These are the things that will keep us from developing an attitude of gratitude.  For us to be able to overcomes these, we have to have FAITH.  It is through our faith in Jesus that we can be renewed and re-born.
The challenge for us today is for us to develop an attitude of thankfulness not just for the blessings but for the trials as well, relying on our faith in God that He will continue to work for the completion of His divine purpose, His divine plan and His divine agenda.