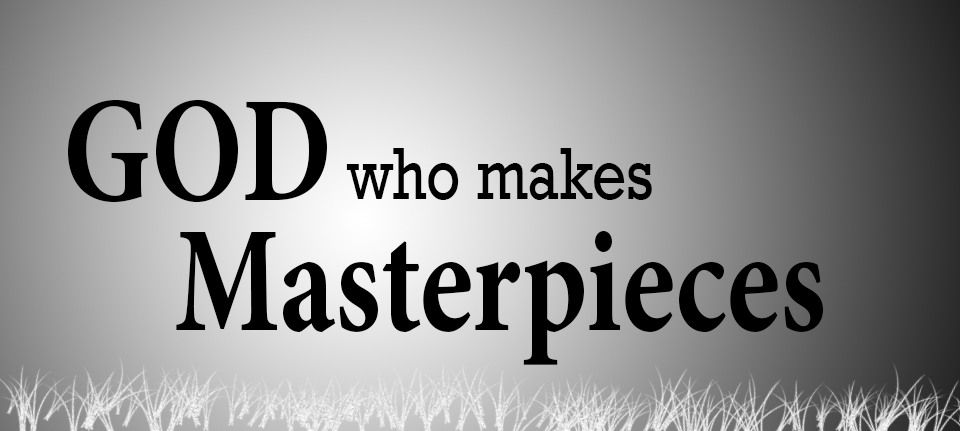 But God, being rich in mercy, because of His great love with which He loved us, 5 even when we were dead [a]in our transgressions, made us alive together [b]with Christ (by grace you have been saved), 6 and raised us up with Him, and seated us with Him in the heavenly places in Christ Jesus, 7 so that in the ages to come He might show the surpassing riches of His grace in kindness toward us in Christ Jesus. 8 For by grace you have been saved through faith; and [c]that not of yourselves, it is the gift of God; 9 not as a result of works, so that no one may boast. 10 For we are His workmanship, created in Christ Jesus for good works, which God prepared beforehand so that we would walk in them.        
 Ephesians 2:4-10
What is a masterpiece?
A masterpiece is a very valuable piece of art created with the most ordinary and at times even worthless materials.  There have been many masterpieces throughout history  made by  ordinary people with ordinary materials.  Van Gogh, Da Vinci, Michelangelo, Picasso. . . But have we forgotten the greatest master of all?
In Genesis 2:7, we see that God formed man from dust.  Ordinary dust.  But when God formed us from the dust and breathed into us life, we became His greatest masterpiece.  David in Psalm 8 says " What is man that You take thought of him? And the don of man that You care for him?  And yet You have made him a little lower than God, and You crowned him with glory and majesty!"  but because of our disobedience, we have made a mess of things.  Because of sin, we have become a mess.
But Ephesians 2 reminds us that despite all the mess we have in our lives, God still chooses to re-create us into His masterpiece because of His great love and mercy.    He takes our sins and transforms our lives into the original blueprint of our lives, into the masterpieces that He had originally made us out to be.
The truth that we should always put in our minds is that We are created to become masterpieces and not messes!  The only reason why we are messes is that we give into the temptations of the fallen world.
 Set your mind on the things above, not on the things that are on earth.  For you have died and your life is hidden with Christ in God.  When Christ, who is our life, is revealed, then you also will be revealed with Him in glory.                                                                                                 Colossians 3:2-3
 We should set our minds on heavenly things, to focus on God and not the temporary things this world can offer.  How  do we do this?
1. We should always remember that we are TIMELESS BEINGS.  We are only passer-bys in this world and our final destination is to be with Christ in heaven.
2. We are PRECIOUS PRICELESS BEINGS purchased by the priceless Blood of Christ.  We were sinners bound for hell, but God gave us a great gift in the person of Jesus Christ.  His blood was shed to redeem us from our eternal damnation.  That is how important we are to God, that He Himself found a way out for us, a way for us to be reconciled with Him and a way for us to be able to return into the masterpieces we once were.
3. We are GOD'S WORKMANSHIP, His masterpieces for the world to see and want.  We have to start living out our Christianity.  We have to start living out our lives reflecting the masterpieces that we are.  Unfortunately, many Christians walk around showcasing the messes they have become instead of the masterpieces they have been transformed into when they received Jesus Christ as their Lord and Savior.
4. We are GOD'S WORKMANSHIP, His masterpieces meant to be CHRIST-LIKE in all aspects of our lives.  Romans 8:29 reminds us that we have been predestined to become conformed to the image of Jesus Christ.  That in every thing we do, in every thing we say, in every thing we are — we reflect the Christ in us.  And the best way to do this is through the Great Commission.
Let us take up the challenge of the Great Commission.  This is the ultimate plan for us, the only way by which we can become more and more like Christ. . . The only way by which we can reflect Christ in our life.  We are then encouraged to OBEY NOW.  If we want to unleash the power of God in our lives. . . If we want to become the masterpieces that we were created to be. . . We have to start today.  We have to start now.  We have to allow ourselves to be discipled and make disciples.
The apostle Paul reiterates this in 1 Corinthians 11:1 " Imitate me, just as I imitate Christ".
Can we become the masterpieces we were created to be?