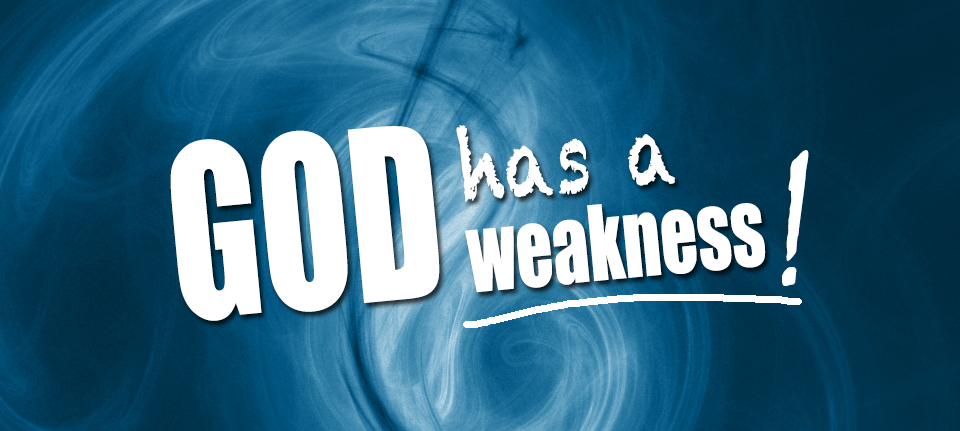 This I recall to my mind,
Therefore I have hope.
The Lord's lovingkindnesses indeed never cease,
For His compassions never fail.
They are new every morning;
Great is Your faithfulness.
"The Lord is my portion," says my soul,
"Therefore I have hope in Him."
 Lamentations 3:21-24
 The title has its own reason. We often see God as strong and mighty God, but one side we often look past is his side of weakness.  God cares for you. He cares so much for you that at times he is obsessed at loving and reaching out to you.  This is God's greatest weakness, His greatest flaw.  Psalm 8:4 tells us " what is man that you are mindful of him, and the son of man that you care for him?"
God has a weakness towards His children . . .
. .  .Through His faithfulness to provide and protect
. . . And His never ending love and grace.
When we say weakness, we do not refer to a lack of strength or feebleness, but rather a soft side.  Just imagine the God of all creation, all knowing and all powerful and yet He knows us from the moment we are conceived.  We are His masterpieces and He knows us intimately.  From the moment we were conceived He already loved us. . . Much like our earthly fathers instantly loves his children from the minute they are born.  His love however, is unconditional.  His love for His children is constant, unconditional and never ending.  In Deuteronomy 31:6, it says " I will never leave you, nor forsake you".
This is not only a message of His love but it is a promise as well.  The word "will" is in the future tense. . . But He also uses the word "never" which emphasizes His faithfulness and constancy.  This is His weakness.  This is how much He loves us.
Luke 12 reminds us to consider the ravens.  They do not have to store food for themselves, they do not have to work for their own food but still they are fed.  God feeds them. . . If God can provide for them, what more for us, His most prized creation.
God's faithfulness defined:  faithfulness means that everything He says and does is certain.  He is 100% reliable, 100% of the time.  He does not fail, forget, falter, change or disappoint.  He says what He means and means what He says and therefore does everything He says He will do.
Often times in our lives, we cannot feel God moving but that does not mean He does not care or is not there.  When we go through difficult times and begin to believe that God is no longer involved in our lives, we have to stop and think again.  If our earthly fathers want to give us everything we ask for, what more for our Heavenly Father.  In His great love for us, in His great compassion for us. . . Therein lies His weakness.  If our earthly fathers continue to provide for us even though relationships may be estranged, so will our Heavenly Father provide for us.  More often than not He is merely waiting for the perfect time to answer our prayers.  God will not fail to provide and protect His children.
1 John 4:19 says "We love because he first loved us."  This is a fact.  Grace is a trait of God.  It is a part of love, His love because He is love.
Grace is the free and unmerited favor of God, as manifested in the salvation in the salvation of sinners and the bestowal of blessings.  In John 8, it tells of a story of an adulterous woman who was brought to Jesus for judgment.  But Jesus said " he who does not have sin cast the first stone" and all her accusers left.  After that Jesus, asked the woman " has no one condemned you?"  and she answered " no one Lord" and Jesus says " I do not condemn you either.  Go! And sin no more."
This is the reason why Jesus gives us grace.  It is to restore us.  He gives us what we don't deserve because he wants us to change.  And He wants us to become the kind of people that He wants us to be.  He restores us so that He can bring us back to where we are supposed to be, so that we can be with Him in the promised land.
God's weakness is our strength and hope.
We have to have a change or mind and an attitude shift realizing that without God's grace and faithfulness, our situation could be worse.  That we are actually better off than others who do not have Jesus in their lives, those without hope and a future.
God has a weakness. . . His love and faithfulness towards us.  This then is our story to share and witness to a hopeless and dying world.