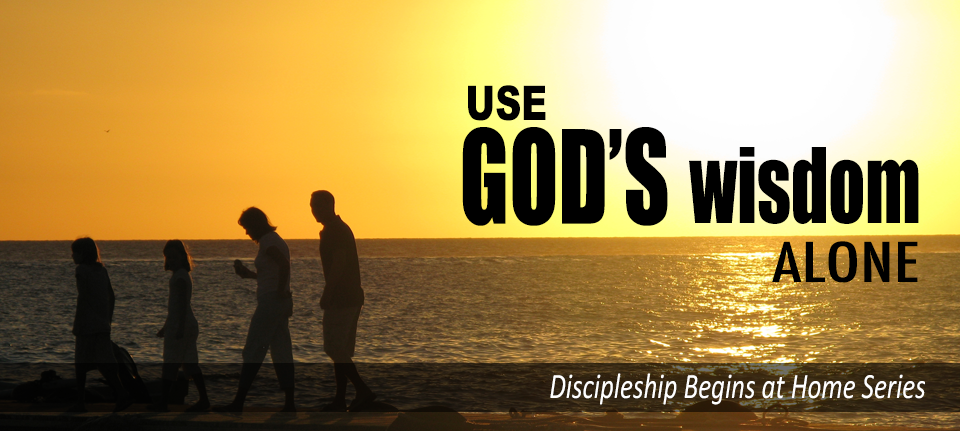 "For the message of the cross is foolishness to those who are perishing, but to us who are being saved it is the power of God. 19 For it is written:
 "I will destroy the wisdom of the wise;
    the intelligence of the intelligent I will frustrate."[a]
Where is the wise person? Where is the teacher of the law? Where is the philosopher of this age? Has not God made foolish the wisdom of the world? For since in the wisdom of God the world through its wisdom did not know him, God was pleased through the foolishness of what was preached to save those who believe. Jews demand signs and Greeks look for wisdom, but we preach Christ crucified: a stumbling block to Jews and foolishness to Gentiles, but to those whom God has called, both Jews and Greeks, Christ the power of God and the wisdom of God. For the foolishness of God is wiser than human wisdom, and the weakness of God is stronger than human strength." 1 Corinthians 1:18-25
We must be aware that Christianity is just one generation away from extinction.  As parents, we have to realize that it is not that difficult for us to lose our children.  In the past week, we  have learned about the importance of influencing the heart, since this is the very essence of our personality.  This emphasis the need for discipleship at home.  Then the question of how comes?  How do we influence the heart when we do not know how — in our ignorance, we must rely on God's wisdom alone so that we do not fall into the trap of foolishly parenting our children.
Often we really on our own wisdom and common sense to parent our children.  Unfortunately these are flawed and limited.  But God's wisdom is not.  Ephesians 5:15-17 reminds us to be careful how we walk, not to walk as unwise men; to make the most out of our time. . . Not to be foolish but rather understand what God's will is.
Relying on worldly knowledge can lead to evil as 1 Jn 2:16 says " for all that is in the world, the lust of the flesh and the lust of the eyes and the boastful pride of life, is not from the Father but is from the world".  Without God's word, without His wisdom it will be very difficult for us to recognize and see the subtle evils in our everyday life.  We can easily fall prey into the temptations presented to us, falling prey to little compromises that can later cascade into a huge vortex that can easily suck us in.  We are become blinded by wordly rationalizations that can convince us that everything in the world is "right" and "good" and we forget that these are in fact subtle temptations for us to fall into evil.
It is because of the subtly of these temptations that we must actively protect the family.  This is why we are commanded to disciple our children using God's word and depending on God's wisdom alone.
Ephesians 5:15-17 gives us two courses of action:
1. To be careful how we walk
2. To make the most of our time
The Bible is clear that we must deliberately reject the so-called wisdom of this world, which exalts man, and embrace God's wisdom which opposes the world's wisdom and centers in the cross of Jesus Christ. If we are not careful, we can become complacent and start to succumb to the world's philosophy and psychology that the self must come first.  That is why we need to be constantly reminded that it is not only essential but should also be second nature to us Christians to look to God's word and depend on His wisdom alone.  It is only in a discipleship relationship that this is embraced and practiced.  It is only through a discipleship relationship that this is can be seen to fulfillment.  Left on our own we can easily convince ourselves and succumb to compromise.  We have to constantly remind ourselves that although we are in this world, we are not of this world.  That we need only one thing — JESUS CHRIST.
Discipleship is a way by which we can be transformed to be more and more Christlike.  And that is why it is important that we also have a discipleship relationship in the home.  So that our center and focus will be on Jesus, and it will be through Him that we will become better parents.
We should then ask ourselves — what is our motivation for parenting?  Is it merely to raise discipled children or is it to raise discipled children?  Is it to raise children who will have glory in the world or is it to raise children who will seek after God's glory?
We have to take a stand today.  We have to decide to be careful of how we walk, allowing ourselves to be discipled so that we can disciple others; and to make the most of our time, to become intentional in everything we do so that each moment becomes a teaching moment of love and growing in Christlikeness. . . To make good use of all the magic moments that has yet to come . . . To make use of our life for the glory of God so that our children and our children's children will emulate our life.