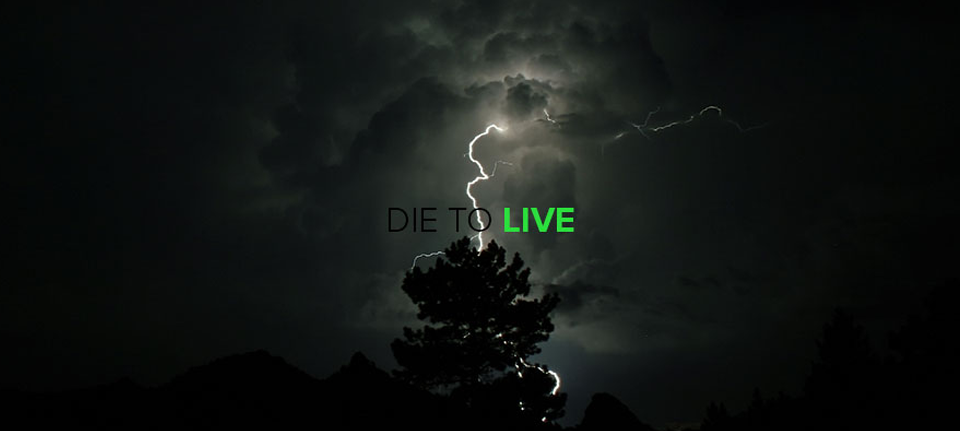 I have been crucified with Christ; and it is no longer I who live, but Christ lives in me; and [a]the life which I now live in the flesh I live by faith in the Son of God, who loved me and gave Himself up for me. 
Galatians 2:20
What comes out of you when you are squeezed?  When you are facing challenges or trials?  A non-Christian when squeezed will pour out selfishness, carnality and worldliness whereas a Christian will pour out Christlikeness and selflessness.  There is a secret to a Spirit-filled or a Spirit-controlled life.
The Christian life is a paradox.  You must be last to be first, you must give I order to receive; you must be the least in order to be the greatest. . . You must die to live.  Romans 6:11 says "Even so consider yourselves to be dead to sin, but alive to God in Christ Jesus."  This reminds us that when Christ died for our sins, we too died and when He rose from the dead, we too rose to a new life in Him.
Jesus tells us to die to ourselves, to deny ourselves, to take up our cross daily and follow Him (Luke 9:23) because when we do the Holy Spirit takes over.  This simply means that we must renounce ownership of our life, because this is no longer ours to own — it belongs to Christ.
Losing our life is not an option if we want to belong to Christ.  It is inevitable.  Many Christians today believe that they can call themselves followers of Christ and still retain ownership of their life, but this is not the case.  In verse 24 Jesus tells us that "whoever wishes to save his life will lose it, but whoever loses his life for My sake and the gospel's will save it."
When we die to ourselves, we allow ourselves to give way to God's best (verse 25).  This is a trade off.  We cannot live in the world, and believe that we can be followers of Christ.  Jesus is offering us an exchanged life.  A dead life for a life with Him.
To many of us, we believe that this is impossible — to die to live in Jesus.  We try to find ways to compromise and get the best of both worlds.  But this is not possible.  This is not God's way.  In verse 26 we are reminded that if we are ashamed of Him and His Word, then He too will be ashamed of us.
"Truly, truly, I say to you, unless a grain of wheat falls into the earth and dies, it remains alone; but if it dies, it bears much fruit." John 12:24
If we keep clinging to our life, and refuse to surrender to the Lord, if we keep on insisting on living our life our way . . . Then the full potential that should be ours through Christ Jesus will not materialize.
We have to live by faith.  We need to trust Jesus.  If you truly trust the Lord, it is easy to die to self and follow Him. But you will only trust Jesus if you know Him.
Saul and David
King Saul did not take up his cross. He started well (1 Samuel 11:6) but became preoccupied with himself (15:12) and his reputation (15:30). He was insecure of David's popularity (18:7-9). He let his position, power and possession define him. His life ended tragically. He committed suicide and three of his sons died with him in Mount Gilboa.
"Before God uses a man, God will break the man." – A.W. Tozer
David, on the other hand, exemplified dying to self. God allowed pain to enter David's life as a result of his sin. The consequences of his adultery with Bathsheba and murder of Uriah were tragic. His first son to Bathsheba died. His daughter Tamar was raped. His favorite son Absalom plotted to kill him. His right hand adviser Joab turned against him.
God used David's pain to break him. Even though he made mistakes, he still finished well.
"Then he died in a ripe old age, full of days, riches and honor; and his son Solomon reigned in his place." – 1 Chronicles 29:28
People who have been crucified with Christ have 3 distinct characteristics according to A.W. Tozer:
1. They are facing only one direction
2. They can never turn back
3. They no longer have plans of their own.
We are not called to live our own life — we are called to die.  Die so Jesus can live in us.  In process of dying to ourselves, God will break us but the pain of dying should not discourage us rather let us keep our eyes on God and like David sing " But as for me, I trust in You O Lord, I say "you are my God" Psalm 31:14