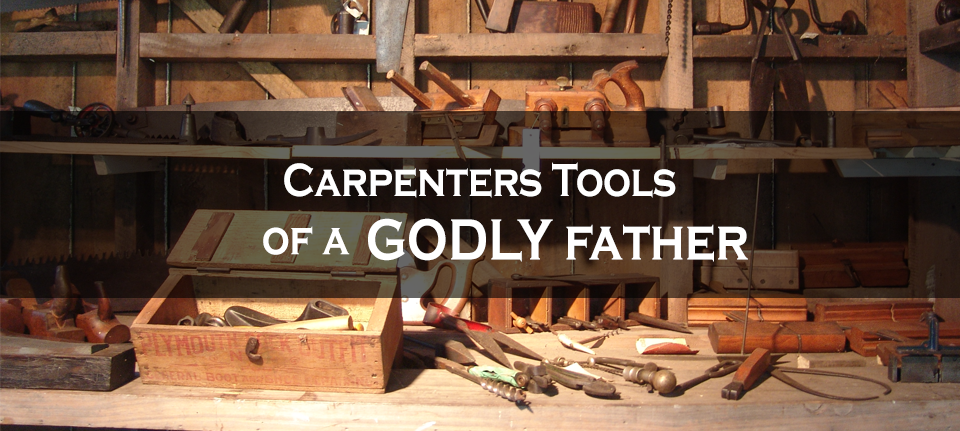 Unless the Lord builds the house, the builders labor in vain.  Unless the Lord watches over the city, the guards stand watch in vain.                                                                                                                       Psalm 127:1
Being parents is not an easy task or undertaking.  There is no manual or fixed set of rules of how to parent a child.  It is because of this that we should continually rely on God's Word on how we should raise our children.
Parenting is a tremendous responsibility specially since we live in a world that is continuously teaching us to put more value on the world rather on the Word of God.  It is our role as godly parents to teach our kids to be different.  To grow up in love and fear of the Lord.  This task is one of the main responsibilities of a father being the head of the family.
Tools of a Godly Father:
1. Measuring Tape
a godly father measures his children's personalities, likes/dislikes, character, attitudes etc
to measure means to set standards, expectations, boundaries by which one will evaluate, teach, guide and instruct
Matthew 7:1-2 reminds us not to judge or we too will be judged, we will be judged by the same measure that we use to judge others
Proverbs 1:7-9 also reminds us that the fear of the Lord is the beginning of knowledge and we are encouraged to listen to our father's instruction and not to forsake our mother's teaching.
It is often in this situation that we find our challenges — there is a huge difference between our intentions and our actions.  Often we have the best intentions at heart but how we translate it into action is often where we struggle.
2. Saw
Is a tool used to cut, trim to size any piece of wood to suit the need of the project
A godly father uses this tool to trim to size the character, attitude of his children in order to conform to legal norms of society but more importantly, to trim to size in order to conform to the commandments of God
When we refer to trimming or cutting to size, we are referring to discipline.
3. Hammer
A godly father uses a hammer to instill in his children the Word of God to direct them as they grow.
Proverbs 22:6 reminds us that as parents it is our duty to train up a child in the way that he should go so that even when he grows old, he will not depart from it.
So how do we hammer godly principles into our children:
1. Read the bible daily with them
2. Pray with them daily
3. Model to them daily bible reading and prayer
 You shall therefore impress these words of mine on your heart and on your soul; and you shall bind them as a sign on your hand, and they shall be as frontals on your forehead. You shall teach them to your sons, talking of them when you sit in your house and when you walk along the road and when you lie down and when you rise up.You shall write them on the doorposts of your house and on your gates, so that your days and the days of your sons may be multiplied on the land which the Lord swore to your fathers to give them, as long as the heavens remain above the earth.  Deut 11:18-21
 4. Brush
A godly father uses a brush to apply finishing touches to the life of his children
Love is made up of 3 unconditional properties in equal measure:
1. acceptance
2. understanding
3. appreciation
     Remove any one of the 3 and the triangle falls apart.   (Vera Nazarian)
 Unless we are able to make the Lord an intricate part of our parent—child relationships, then we are building up children in vain.  It is only with God's grace and His wisdom that we will be able to raise godly children.