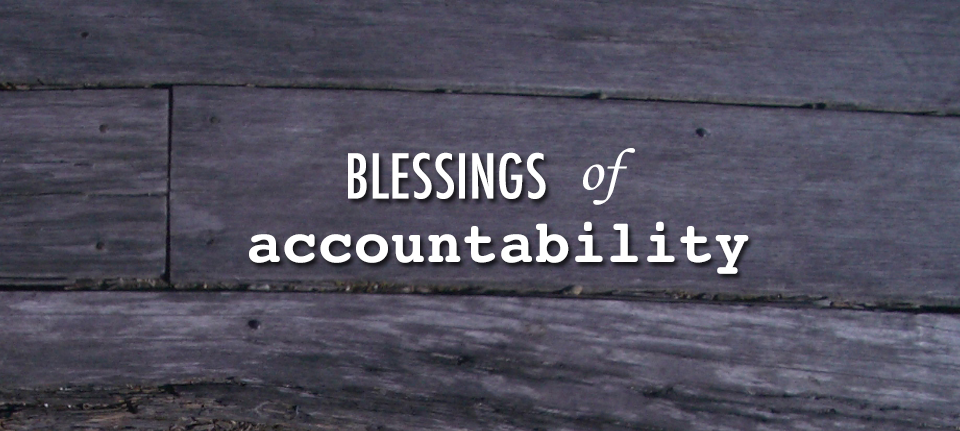 Brethren, even if anyone is caught in any trespass, you who are spiritual, restore such a one in a spirit of gentleness; each one looking to yourself, so that you too will not be tempted. Bear one another's burdens, and thereby fulfill the law of Christ. For if anyone thinks he is something when he is nothing, he deceives himself. But each one must examine his own work, and then he will have reason for boasting in regard to himself alone, and not in regard to another. For each one will bear his own load.   The one who is taught the word is to share all good things with the one who teaches him.          Galatians 6:1-6
 Accountability is defined as an obligation or willingness to accept responsibility or to account for one's actions.  You may ask — is accountability biblical?    Romans 14:12 tells us that " each one of us will give an account of himself to God.
Accountability is only effective in a discipleship relationship?  Without this relationship, it will be difficult to call one's account of his actions.  If you remember, Discipleship is the process of bringing people to Jesus Christ, and building them up in the faith towards Christlikeness, for the purpose of spiritual multiplication resulting in the glory of God.
Accountability then becomes one of the means by which we can re-direct each other or disciple each other in the direction of Christlikeness.  They come hand in hand.  You cannot have one without the other.  One cannot say that he is being discipled and yet not allow himself to be accountable to his discipler.
Some may consider accountability a burden. . .a complication that accompanies discipleship.  But we must not look at it in that way.  Accountability is merely a way by which we can remind each other in love of God's grace and God's desire for us to be molded to be like His Son, Jesus Christ.  1 Corinthians 5:10 tells us that eventually we will "all appear before the judgment seat of Christ, so that each one may be recompensed for his deeds in the body, according to what he has done, whether good or bad."  It is through being made accountable of our actions and our lives that our humanity is called to attention as we are constantly being pushed towards the direction that God wants us to go.  Looking at it this way, accountability then becomes a blessing to us.
Galatians 6:1-6 teaches us the biblical way of accountability.
PICK HIM UP—Galatians 6:1
Verse 1 reminds us that accountability can only be between brethren, between followers of Jesus Christ.  PICK HIM tells us that we are obligated to call the attention of the brother who we have witnessed falling into any sin. It is important though that the person is actually seen committing the sin and not dependent on hearsay or wrong judgment.  Our motivation should be to restore him to his walk in Christ and not to shame.  This should be done with an attitude of gentleness and not an attitude of haughtiness or superiority.  When we approach our brother to call him to be accountable, we should ask to be empowered by the Holy Spirit so that our motive remain pure and not selfish.  So that even our attitude and words are gentle, are loving . . .and not harsh and hurtful.
HOLD HIM UP—Galatians 6:2—5
Verse 2 further says that our responsibility in accountability does not stop at calling our brother's attention to his sin.  Since we were the ones who God allowed to be witnesses to his sin, it is also our responsibility to HOLD HIM UP.  To be the ones to be there and guide him through so that he finds his way back to the Lord's path.  This can only be done with humility. . .on the part of the one who was lost and the one who had witnessed him losing his way.  It is only with the grace of God that we can do this selflessly and not become proud.  We must constantly remember that getting back on track requires the grace of humility from God, as well as the grace of humility is also needed by the one who is guiding the lost.  Often times this becomes our stumbling block, when we find ourselves with an attitude of spiritual superiority.  Verse 4 reminds us that we must constantly examine our own work, so that we do not have reason to boast.  The only thing that we can really boast of is of God's grace and Christ's sacrifice on the cross.
BUILD HIM UP—Galatians 6:6
After we Pick him up and hold him up, we must continue to BUILD HIM UP.  We have to continue to fellowship with our brother until he is fully restored.  We can do this by continually encouraging one another by sharing all the good things.  Encouragement should go both ways.  Proverbs 27:17 says " Iron sharpens iron, so one man sharpens another."  It is in our encouragement of one another that we will find meaning in the accountability relationship that we have been blessed with.